The wounds have never healed': living through the terror of ...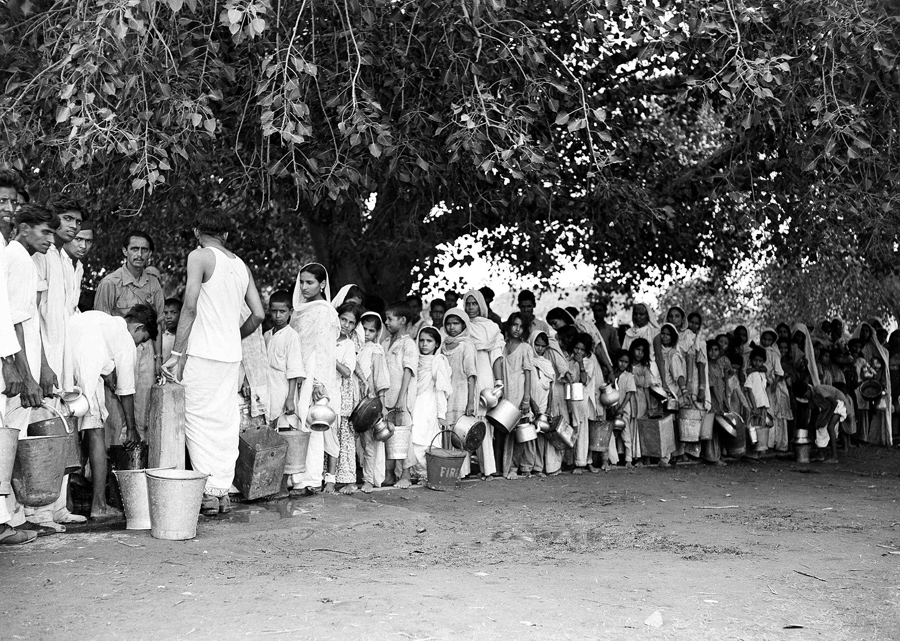 Sikh refugees from Lahore waiting for their family elders in 1947 | 71th Independence Day: Memorable pics from 1947 that narrate the story of India's Independence | Photos | India.com PhotoGallery
Aug 15, 2017 -

At midnight on August 14 1947, Jawaharlal Nehru, the first prime minister of independent India, gave a famous speech which hailed the country's .... As India prepared to mark 70 years of independence, families who witnessed the death and destruction during partition recalled the tales of horror. Brothers ...
It is estimated that around

1–2 million people died during the partition

of British India. The most violent clauses were centred around Punjab where the Muslim population of East Punjab was forcibly expelled and the Hindu/Sikh population in West Punjab.
UNHCR estimated that around 14 million people were displaced during the partition

. The 1951 Census of Pakistan identified the number of displaced persons in Pakistan at 7,226,600, presumably all Muslims who had entered Pakistan from India. Similarly, the 1951 Census of India enumerated 7,295,870 displaced persons, apparently all Hindus and Sikhs who had moved to India from Pakistan. The two numbers add up to 14.5 million.
===============================================

BRITAIN THOUGHT INDIA WILL BE DISMEMBERED AND WEAKENED BY PARTITION
BRITISH PLAN WAS TO HAVE SEPARATE TREATY WITH EACH MAHARAJA (TOTAL MORE THAN 300 MAHARAJAS) AND CONTINUE RULING INDIA
Chamber of Princes - Wikipedia

CONGRESS LEADER SHIP DECIDED TO AMALGAMATE ALL SMALL PRINCELY STATES INTO ONE COUNTRY UNDER INDIA
AND SARDAR VALLABHAI PATEL MET MOST MAHARAJAS FOR THIS
SARDAR PATEL WITH RULER OF HYDERABAD
Building A Nation | Sardar Vallabhbhai Patel
File:Sardar with Maharaja of Mysore.jpg - Wikimedia Commons
India at 70: These five states were reluctant to join Independent India
Kishan Ghedia
, Sardar - The real "Iron Man" of India!

( Princely states of India during 1934-1947 )

Sardar Patel handled effectively the integration of the princely states with his diplomatic skills and foresightedness. The problem of amalgamating 562 independent states with a democratic self-governing India was difficult and delicate. But it was essential to save India from balkanization, once the Paramountcy of British crown would lapse.He, by his tactics, broke the union of separatist princes. By August 15, 1947 all except Hyderabad, Junagarh and Kashmir acceded to India. He thereafter carried three fold process of assimilation, centralization and unification of states. The states were amalgamated to form a union and that union was merged with the Union of India.

In terms of size and status, Kashmir and Hyderabad were larger in size than many countries of the world whereas some were just combination of dozen of villages.British created many proposals which allowed them to control many important aspect of Indian princely states like military, succession at a hefty fee without taking any responsibility of welfare of its people. (Parallels may be drawn to last government where Manmohan Singh was prime minister while decisions were taken somewhere else.) These states had their own railways, currency and stamps, but as aptly pointed by one British observer, "The states were sinks of reaction and incompetence and unrestrained autocratic power sometimes exercised by vicious and deranged individuals".

( V.P. Menon, Secretary, States Ministry, at the covenant signing ceremony of the Union in April 1948, with the Maharaja of Gwalior (left). It was Mountbatten's skills and Menon's legal resourcefulness which truly accomplished the first phase of the integration of States, that is, the accession to the Union. Photo:THE HINDU archives )

Congress had assigned the problem of states to the pragmatic administrator Vallabhbhai Patel. He threw a series of lunch parties, where he urged his princely guests to help the congress in framing a new constitution of India. And at the same time, Patel wrote to influential chief ministers of the princely states urging them to convince their rulers to come to terms with the party which would now rule India. One of the first princes to come over to Patel's side was Maharaja of Bikaner. His dewan was K. M.Pannikar who could see that force of nationalism was irrestible. And if one did not compromise with them, one would be swept away.