read below:-


Demonetization in 1946 and 1978: Stories from the past
Prior to last week's announcement by Prime Minister Narendra Modi that high denomination notes would stop being legal tender from 9th November, there were two similar instances in India.
The first instance was in 1946 and the second in 1978 when an ordinance was promulgated to phase out notes with denomination of Rs 1,000, Rs 5,000 and Rs 10,000.
The media in terms of numbers was limited in 1946 and 1978 when compared to 2016. But given the importance of the decisions, it did trigger coverage.
Newspaper and magazine archives of the 1946 decision do not seem to be available online. Therefore, I relied on Reserve Bank of India commissioned history of India's central bank to get an idea of how a stakeholder perceived the decision.
The following extract of RBI's history volume is sourced from "Mostly Economics," a blog on economic developments in India.
According to RBI's relevant volume:
"Sir Chintaman Deshmukh (governor) felt that we may not get even as much as Rs. 10 crores as additional tax revenue from tax evasion and that the contemplated measure, if designed to achieve such a purpose, has no precedent or parallel anywhere. If value is going to be paid
for value (no matter whether such value is in lower denomination notes), it is not going to obliterate black markets. His advice is that we should think very seriously if for the object in view (as he deduces from the declaration form) whether this is an opportune time to proceed
with the scheme. Provided Government are satisfied on the points of (i) sparing harassment to the unoffending holders and (ii) a worthwhile minimum of results in the shape of extra tax revenue, he does not wish to object to the scheme as drafted, if Government wish to proceed with it notwithstanding the administrative difficulties involved."
I
t was not the first time an RBI governor was skeptical of government's move to strip currency of legal tender characteristic at short notice.
In 1978,

when Janata government proclaimed an ordinance, some of the media coverage of the development was available online.
A Times of India report (sourced in-house) published on 17th January 1978 said:
"A press note issued tonight said that the ordinance had been promulgated because there was reason to think that high-denomination notes were facilitating the illegal transfer of money for financing transactions which are harmful to the national economy or which are for illegal purposes. There has been concern in recent months over the behaviour of agricultural prices particularly of edible oils. In spite of a bumper harvest agricultural prices are ruling much higher than after the poor harvest of 1976- 77. Massive imports of edible oil have failed to bring down prices and the mustard oil price control order has failed miserably to give the consumer his requirements at the specified rate. There has been a feeling that a considerable amount of black money has gone to finance hoarding and speculation. The demonetisation of high denomination currency notes will hit black money hard."
An analysis of the move was written by Jay Dubashi in one of India Today's February editions. Dubashi reported that the ordinance had a ripple effect on other markets such as gold and diamond where prices slumped by 5 to 10% within a week. In addition, the old notes were going at 70% discount in Bombay's Zaveri Bazar.
In his report, Dubashi wrote:
"

Politics apart, the demonetization is unlikely to curb black money

in circulation, for the simple reason that no one really knows how much black money there is in circulation and, even more important, whether black money can really be defined in precise terms in all its shades."
I.G Patel
was governor of RBI when the ordinance was promulgated in 1978. He was not happy about the government move.
"Mostly Economics" quotes the relevant part from Patel's memoirs which are as follows.
"such an exercise seldom produces striking results. Most people
who accept illegal gratification or are otherwise the recipients
of black money do not keep their ill-gotten earnings in the form
of currency for long. The idea that black money or wealth is
held in the form of notes tucked away in suit cases or pillow
cases is naïve.
And in any case, even those who are caught napping—
or waiting—will have the chance to convert the notes
through paid agents as some provision has to be made to convert
at par notes tendered in small amounts for which explanations
cannot be reasonably sought. But the gesture had to be
made, and produced much work and little gain."
It is early days and the context of 2016 is different, but

history does not give us reason to be optimistic.
economictimes.indiatimes.com › News › Economy › Policy
4 days ago - Nor are they from 1978, which is the demonetisation round that an older ... Rajendra Prasad, who would become the first president of India, ... New Delhi, as a newly constructed government town, didn't seem to ... He deflected suggestions that it would harm trade and industry by .... Times Now|Indiatimes

.............................................................................................................................
1978 did not affect poor man-because even a doctor was paid less than 1000/month
the then Prime Minister
A Look Back to 1978 When Currency Notes Were Last Scrapped
It was on 16 January 1978 that the country was told that the Janata Party coalition, which had assumed office a year earlier, has decided to scrap Rs 1,000, Rs 5,000 and Rs 10,000 notes.
The Reserve Bank of India's (RBI) history (third volume) details how things happened.
On 14 January, R Janaki Raman, a senior official from chief accountant's office in RBI, was informed about the government's decision to demonetise high-denomination notes and told to draft the ordinance.
After the ordinance was drafted, it was sent to President N Sanjiva Reddy
for assent. It was through the All India Radio's (AIR) 9 am news bulletin that people were informed about the policy decision. It added that all banks and treasuries would be closed the next day, on 17 January.
Also Read:
Modiji, Kudos But Why the Rush to Scrap Rs 500 & 1,000 Overnight?
one thousand rupee note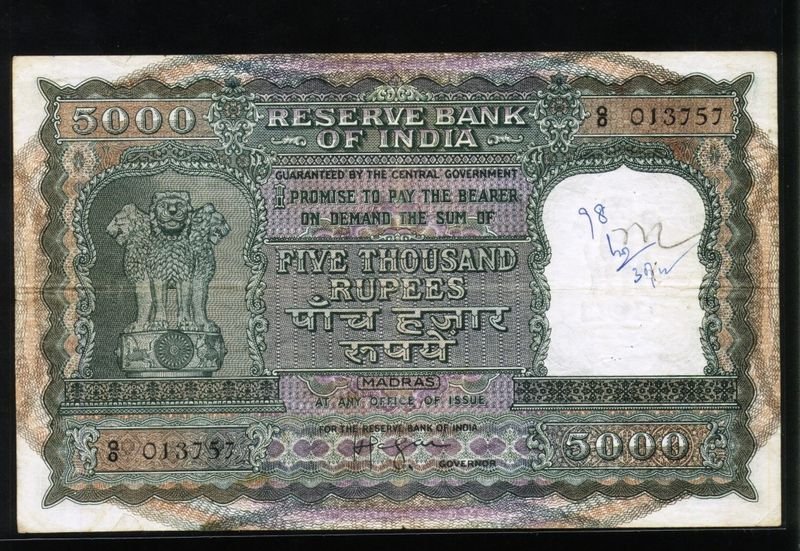 It was in the early 1970s that the Wanchoo
committee made recommendations about withdrawing the bank notes while talking about the menace of black money in the country.
However, these recommendations could not be publicised for the fear of it being counterproductive – black money operators could get rid of high-value notes.
In his article for India Today, Jay Dubashi wrote that the move was directed at freezing the secret funds of politicians, especially Indira Gandhi's Congress. Morarji Desai, the then Prime Minister said that the party had been spending money "like water". Gandhi had reportedly denied allegations saying that "even a ten-rupee note is a luxury to me".
What's interesting to note, however, is that IG Patel, the then RBI governor, was not in favour of the step. He felt that many in the government perceived the step as a measure targeted at the "corrupt predecessor government or government leaders".
In his book, Glimpses of Indian Economic Policy: an Insider's View, Patel writes that when the then finance minister HM Patel told him about the step, he asserted that steps like these rarely have striking results.
He added that most people in possession of black money rarely keep their ill-gotten earnings in the form of currency for long. Thinking that black money is stashed away under mattresses or suitcases is naive, he said.
Dubashi in his article also wrote that demonetisation of currency is not entirely effective because one can't really know how much black money there is in circulation, and more importantly "whether black money can really be defined in precise terms in all its shades."
"Black money stashed as high-value currency is much less than black money as untaxed income, part of which might be splurged in conspicuous consumption or used for investment in real estate, commodities, stocks, benami lending or plain graft to secure political or administrative goodwill," Dubashi wrote.
1978 did not affect poor man-because even a doctor was paid less than 1000/month
2016
demonetisation is already a failure and it may affect the political future of many -read below:-
... | Bloomberg (This column does not necessarily reflect the opinion of the editorial board or Bloomberg LP and its owners) One week after India's sudden declaration that 500- and 1,000-rupee notes were no longer legal tender, the economy is in chaos.
In 1978 nobody had 1000 rupee note
In 2016 even a poor man has 500 rupee note
so it has affected the poor and farmers -not the rich
RELATED NEWS
indiatribune.com/allegations-that-demonetization-decision-leaked-totally-absurd-centre/
17 hours ago - Allegations that demonetization decision leaked totally absurd: Centre ... of "selectively leaking" information about its demonetization plans to ...
www.siasat.com › Featured News
4 days ago - At the time when BJP's allies and media are hailing Prime Minister Modi's demonetization of old Rs 500 and Rs 1000 note as a masterstroke ...
NEW DELHI/BENGALURU: Some Indian gold traders are placing bulk, short-term import orders on fears that Prime Minister Narendra Modi might soon add curbs on overseas purchases of the metal to his withdrawal of high-denomination banknotes in his ...
Eleven branches of the State Bank of India today began inking the fingers of people who exchange the now banned 500 and 1000 rupee notes for new ones, in a move designed to stop people from making multiple exchanges at different branches.
This
Indelible Ink
will cause problems for states going for elections
[if you don't have paper, use plastic
in Loo also?]
www.rediff.com › Business
Nov 9, 2016 - Currency scrap: BJP hails Modi, but Congress calls him Tughlaq. ... Manish Tewari, Congress spokesperson: He said the "Tughlaq spirit" has ...
============================================
english.stackexchange.com/.../english-equivalent-for-dont-burn-your-house-to-smoke...
English equivalent for "Don't burn your house to smoke out a rat!" [duplicate] ... There is the saying ' Dont shoot a wasp with a revolver" – Autistic Feb 2 at 10:31 ...
There is no investigation or action taken against Modiji's industrialist friends," Rahul told reporters outside Bhiwandi court.
New Delhi: As a controversy arose over SBI reportedly writing off loans worth Rs. 7,000 crore including that of Vijaya Mallya promoted Kingfisher Airlines, government and the bank today maintained that there was no loan waiver and the liability on the ...
..