BATTLE DURING SLAVE RIOTS IN HAITI 1802
Shows a woman carrying a weight chained to her ankle; in background, a man tilling ground with a hoe. The woman was judged guilty of not speaking when spoken to by a white person; for this she received 200 lashes and was forced to carry a 100 lb. weight chained to her ancle for several months
(Iron collar, punishment for runaways); urban scene, marketers of various goods; man/boy on right has weight on his head (also punishment for running away), attached to his ankle by a chain. The engravings in this book were taken from drawings made by Debret during his residence in Brazil from 1816 to 1831.
three men with their feet in stocks, surrounded by their cooking utensils. The engravings in this book were taken from drawings made by Debret during his residence in Brazil from 1816 to 1831.
executing the punishment of whipping/flogging); black man being whipped by public flogger in a town square; onlookers, others waiting to be flogged, soldiers guarding prisoners. The engravings in this book were taken from drawings made by Debret during his residence in Brazil from 1816
European whipping black on ground with arms and legs lashed together; background, black tied to tree being lashed by another black. The engravings in this book were taken from drawings made by Debret during his residence in Brazil from 1816
A Negro hung alive by the ribs to a gallows"; background shows skulls (presumably of beheaded slaves) on posts. This illustration was based on a 1773 eyewitness description. An incision was made in the victim's ribs and a hook placed in the hole. In this case, the victim stayed alive for 3 days until clubbed to death by the sentry guarding him who he had insulted.
man being broken on the rack (on the orders of the white authority) had been accused of stealing a sheep and shooting an overseer who discovered the theft. This method of torture was intended to keep the victim alive long enough to endure extreme pain before his eventual death. In this case, the victim's left hand was cut off before he died as additional punishment for theft and to serve as an example to others
Caption, "Flagellation of a Female Samboe Slave." Shows woman hanging from a tree with deep lacerations; in background two white men and two black men, the latter with whips. Stedman witnessed this punishment in 1774. The woman being whipped was an eighteen-year old girl who was given 200 lashes for having refused to have intercourse with an overseer. She was "lacerated in such a shocking manner by the whips of two negro-drivers, that she was from her neck to her ancles literally dyed with blood.
Pencil and sepia drawing by Charles Landseer, an English artist who visited Brazil when he was around 26 years old. The sketch shows a white (?) man whipping a black slave who is tied to a post and held by another black. Captioned "Black Punishment at Rio de Janeiro," there is no other information on this scene, which Landseer presumably witnessed during his stay in 1825-26.
(public punishment on St. Anne square); black whipping black with black and white onlookers.
Water color on paper titled "Punishing Negroes at Cathabouco [i.e., Calabouco], Rio de Janeiro"; shows unclothed black man tied to stake, being whipped by another black supervised by a white man. The English painter, Earle, visited Rio de Janeiro in 1820
Slave hiding in a tree, trapped by armed whites on horseback; dogs surrounding tree. Illustration
Caption, "running away"; fugitives trying to elude white captors. The Fugitive Slave Act (1850) authorized slave catchers to track down runaway slave
man on left being flogged, in center at bottom, a woman has her hair cut off.
Trial and imprisonment of Jonathan Walker, at Pensacola, Florida, for aiding slaves to escape from bondage
A woman with Iron Horns and Bells on, to keep her from running away"
"This is a machine used for packing and pressing cotton. By it, he hung me up by the hands at letter a, a horse moving round the screw
I was carried up ten feet from the ground, when Mr. Gooch . . . let me rest for five minutes, then carried me round again, after which, he let me down and put me into the box d and shut me down in it for about ten minutes . . ." (pp. 51-52). Born enslaved in North Carolina around 1815, Roper made a number of escape
Title, "Food for Criminals," shows prisoners in the Rio jail taking "the daily pittance" of food for "their miserable brethren in Gaol." The man on the left carries a box containing bread or biscuit, while the iron pot suspended from the pole contains "the soup, meat, and vegetables." The "worst and most hardened" of the prisoners are "distinguished by irons round the leg, in addition to those on the neck"
THE DALITS OF KERALA WAS KNOWN AS UNTOUCHABLE CASTES ;BY THE HIGHER CASTES .
MANY LOWER MOST IN THE CASTES WERE ALSO SLAVES
AND THEY COULD BE SOLD ALONG WITH PROPERTY
AND CRUEL PUNISHMENTS WERE GIVEN FOR ANY REASON -TILL SLAVERY WAS ABOLISHED IN TRAVAN CORE IN 1855
"The missionaries' anti-slavery campaign and their continued pressure on the Travancore government finally ended in the emancipation of the slaves. On 24 June 1855 it was declared that owning slaves was illegal."
Over 28 Million Africans have been enslaved over the Muslim world over the past 14 centuries
Slaves in Africa - in the early 20th century
British slave traders made maximum profit
About 80% those captured by Muslim slave raiders died before Reaching the slave markets
An Arab slave raid in East Africa 1888. The death toll from 14 centuries of the Islamic slave trade in Africa is estimated at over 112 million.
Arab traders beat their cargo into submission on the run from the African coast to Zanzibar
The slave market in Zanzibar sold an average of 300 slaves every day
Arab slave traders along the Ruvuma River, East Africa, 1866, axe a straggler.
Muslim slave raiders kidnapped women from Europe for harems in the Middle East.
A steam pinnache of HMS London puts a warning shot across the bow of a slaving dhow in 1881.
Rescued from slavery by the British Navy, Samual Crowther became the first African bishop of the Church of England.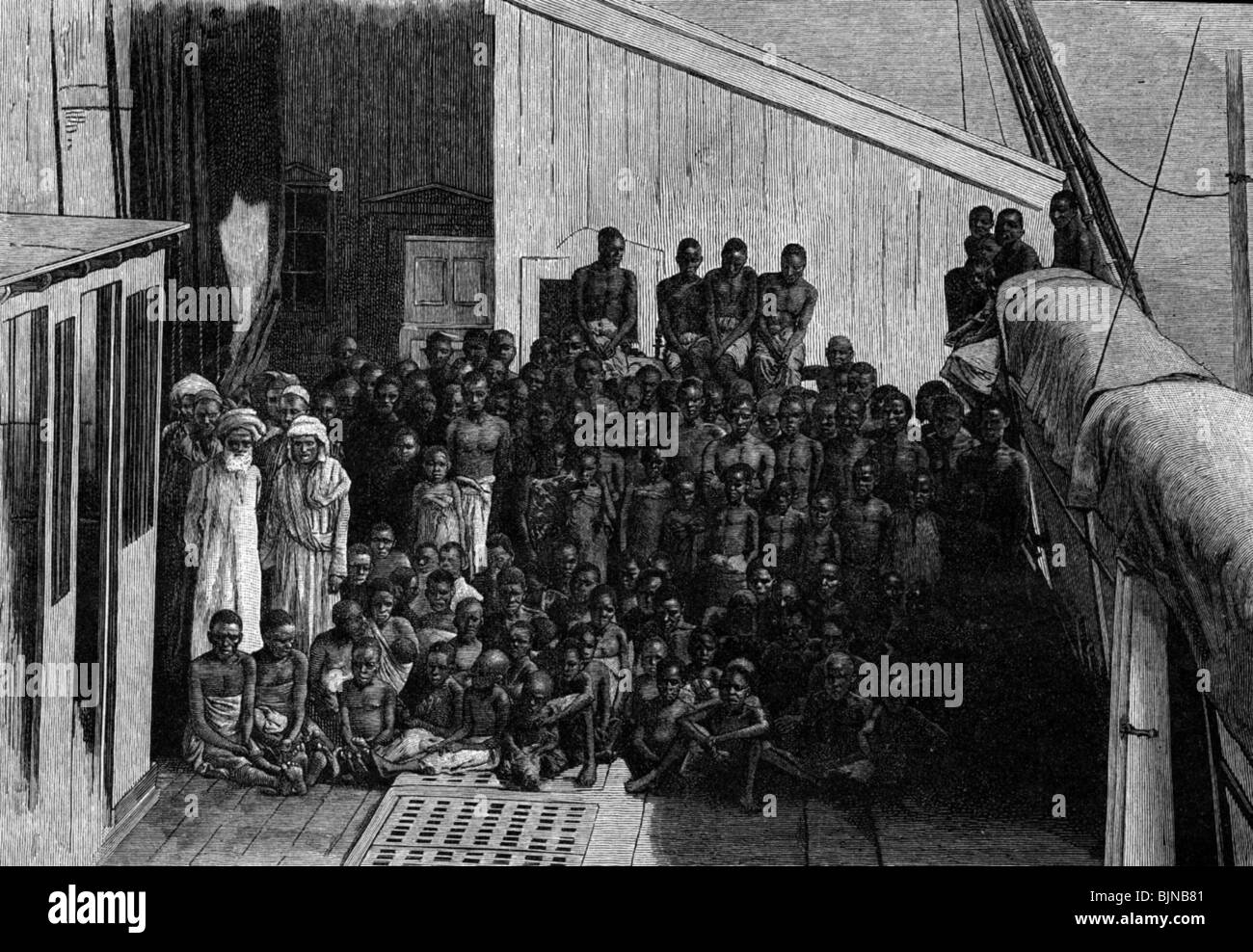 Newly liberated slaves in Zanzibar.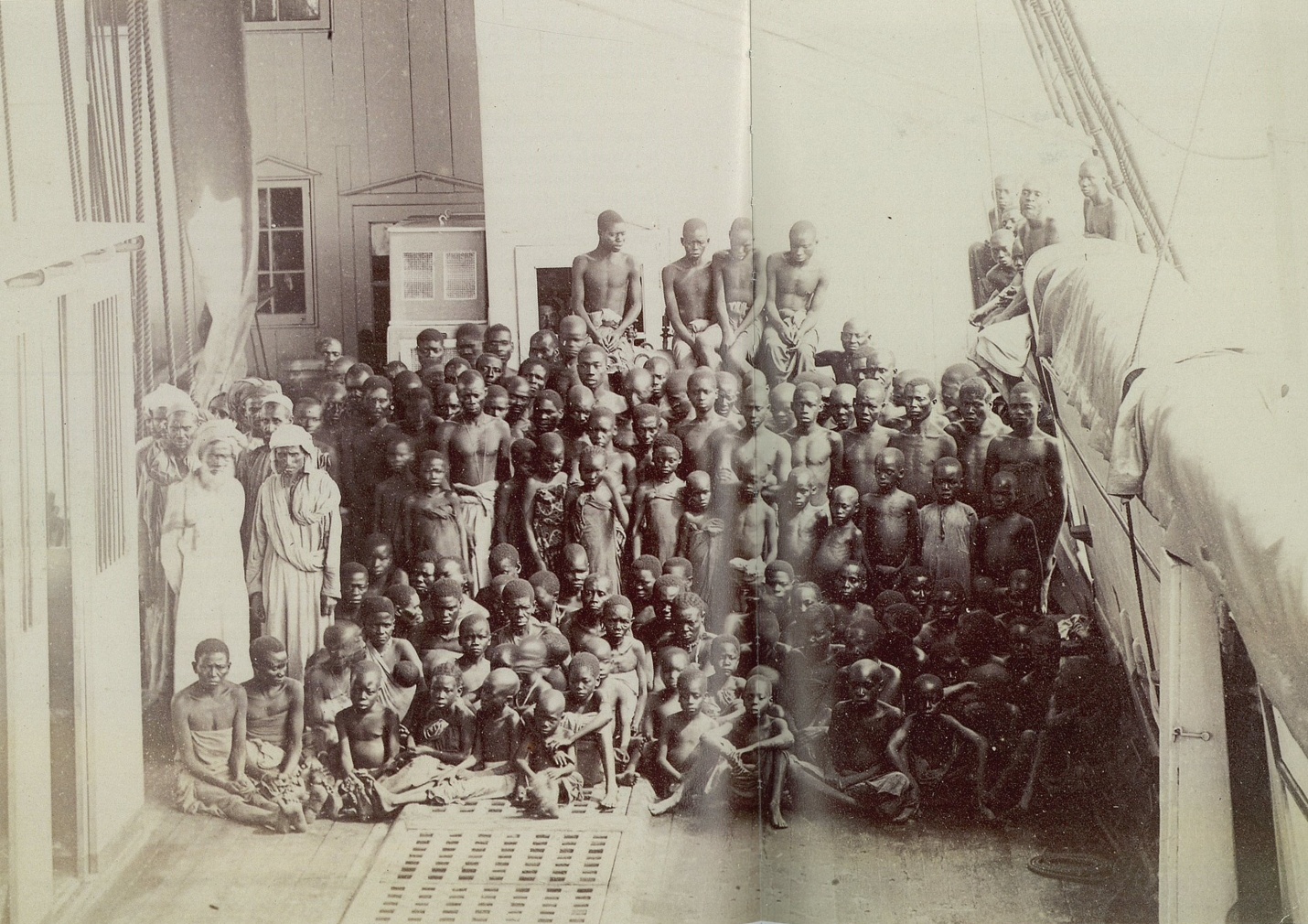 Livingstone and his team free slaves from Arab slave raiders in the Shire Valley.
1833 - All slaves in the British Empire are set free by Parliamentary decree.
An Arab slave caravan, crossing the Sahara Desert. Ibn Battuta traveled with such a party when he came home from Mali in 1353; his group had 600
female
SLAVES
The Europeans and Arabs couldn't have taken away as many slaves as they did without African cooperation. Usually Africans caught the slaves first; here we see a slave coffle being delivered to the coast, where the Europeans waited to buy them.