who will decide on the road side whether man is drunk??/diabetic//heart attack?who??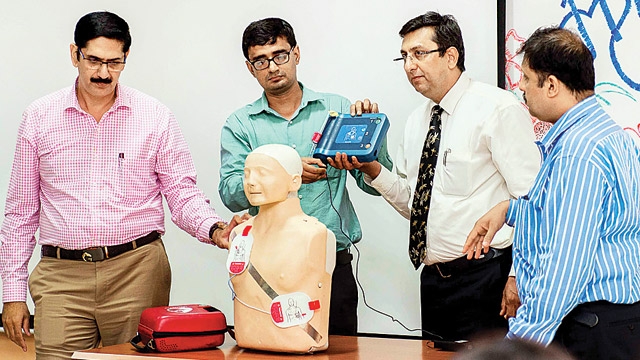 Holy Family Hospital will install 50 defibrillators across the suburb
Citizen volunteers, civic officials and ALM members in Bandra will all be trained to give basic CPR and use a defibrillator, used to revive a patient in case of a cardiac arrest. The not-for-profit pilot project started by Holy Family Hospital in Bandra will see as many as 50 defibrillators being installed across the area in the coming weeks making it the first-of-its kind initiative.
"We have divided Bandra into 10 zones and in each zone, volunteers will be trained in basic CPR. There will be at least a dozen iCare activists in each zone," said Dr Brian Pinto, the senior cardiac surgeon at Holy Family Hospital.
A defibrillator is used to administer a low voltage electric shock when a patient suffers cardiac arrest and is available at airports. Across the world, several cities like Copenhagen, Seattle and Dubai have defibrillators installed in public places that can be used in case someone suffers from a cardiac arrest.
Following a cardiac arrest, if the patient does not receive care in less than 10 minutes, it could lead to permanent brain damage.
"The idea is to have one bystander use the defibrillator and another to call the ambulance so that the patient can be kept alive," said Dr Khusrav Bajan, head of the emergency medicine at Hinduja Hospital, who is associated with the project.
Each defibrillator costs close to Rs one lakh and will be kept at public places like restaurants in the area. If the pilot project works, doctors hope that it can be scaled to cover the entire city.
Lifesaver
Defibrillators are used to give shock to a patient who suffers a cardiac arrest
The portable machine provides audio instructions in English that one has to merely follow
Volunteers will be trained in basic CPR and how to use a defibrillator
who will decide on the road side whether man is drunk??/diabetic//heart attack?who??