A similar notice in Texas U.S.A. 1929
British in India
British colonial territory in china
You cannot run faster than a bullet.
In any country there must be people who have to die. They are the sacrifices any nation has to make to achieve law and order.
Sometimes people mistake the way I talk for what I am thinking.
Idi Amin orders white residents of Uganda to kneel before him and swear an oath of allegiance. | The Life and Times of Mohamed Amin | Pinterest | Uganda


criminal president idi amin
"Under Amin, the press was controlled by the military. Parliament was suspended. He ruled by military decree. It was a reign of terror," said Arthur Bainomugisha of the Advocates Coalition for Development and Environment, a Kampala-based think tank.
Amin killed an estimated 300,000 people.
Thousands fled in fear to neighboring countries. After converting to Islam, Amin praised Adolf Hitler for systematically killing Jews.
His Excellency President for Life, Field Marshal Al Hadji Doctor Idi Amin, VC, DSO, MC, Lord of All the Beasts of the Earth and Fishes of the Sea, ...

Why Idi Amin expelled the Asians
Apartheid did not start in

South Africa

or the

US

; it started with the "mother country",

Great Britain

.
"
Africans and dogs not allowed
"
New African
September 25, 2012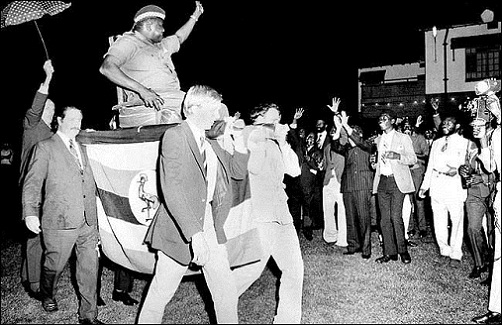 Idi Amin: "

We Africans used to carry Europeans,

but now Europeans are carrying us. We are now the masters … They came from Britian and wanted to show that I really have power in my country."
For example, in trains there was a first class coach for Europeans and a few Asians, and there were coaches for Asians, and coaches for Africans. Apartheid did not start in South Africa or theUS; it started with the "mother country", Great Britain.
The same order prevailed with other facilities such as toilets. The segregation was not supported by law but it was observed in practice. Africans were not expected to go to the Imperial Hotel (The Grand Imperial Hotel in downtown

Kampala

).

There was a sign outside the hotel that stayed there until 1952. It read: "

Africans and dogs not allowed

". The waiters were Asians.
Uganda: How the West brought Idi Amin to power | Links ...
Revealed: Why Idi Amin expelled Asians from Uganda | The London ...
As president of Uganda from 1971 to 1979, Idi Amin (c. 1925–) became well known for his terrible violations of human rights, for causing the collapse of the ...
10 Popular quotes by Idi Amin - Insight | Idi Amin | Pinterest ...
Namumkin is a feature-length film released in 1988, telling the story of an Asian family exiled from Idi Amin's Uganda. The screenplay was written by Bidhu Jha, ..


....................................................................................................................





related photos from google image search -click on photo to get more information
Mar 1, 2008 - Uploaded by Dr Watson
Mix - Idi Amin - Rise and fall of Idi Amin-Cannibalism SceneYouTube · The Most Evil Men In History ...
==============================================




Related news from kenya under britain
Oct 18, 2014 -

Jomo Kenyatta had arrived in Britain in 1929 desperate to secure audience with .... and Cold War paranoia" than this period in Russia as British intelligence .... They participated, alongside the pre-eminent American civil rights .
Churchill decided to fight civil wars in Malaya,Kenya,Cyprus and other colonies before Britain getting defeated in each place
Kenya got independence from Britain after a civil war under Kenyan leader jomo Kenyatta
Below photos of civil war in Kenya -click on each photo to get more information
Focus on Land | History of Land Conflicts in Kenya | Countries