Scientists yesterday claimed to have cracked the riddle of whether the chicken or the egg came first. The answer, they say, is the chicken. Researchers found that the formation of egg shells relies on a protein found only in a chicken's ovaries. Therefore, an egg can exist only if it has been inside a chicken.
Jul 14, 2010
comment:-
But scientists are also chicken headed
as seen above.
Because the question remains how chicken were born without eggs?
religion says all were formed at one go -that is another direction
today

-
chicken and egg question in economics
am asking whether infrastructure will pull out India's 55% agriculturists from poverty? chicken and egg question again
u.p.a government said both go side by side
AT present they say infrastructure alone will make India prosperous
i think this is wrong
all these 70 years after independence when India was dirt poor; after 200 years of British looting [1750 to 1947] when all were poor except for a very few rich like Tata ,Birla and no industries and no industrialists any were in India ;except a few jute mills in Bengal ,a few cotton mills in Bombay-- what was Nehru supposed to do?
1947
infrastructure for a starving famine ridden illiterate India with 1 crore[more than 10 million] refugees due to formation of Pakistan by British manipulations ,was the last priority for a bankrupt India of 1947
see below:-the poverty of India 1947 after British looting of India
India had 30crore (300mn) population, with an average longivity of 32 years (with between 17.5 to 19.0% infantile mortality)
There were just 360,000 income-tax payers in 1947
Only13% of Indians were literate (literacy rate among women was 9%)
83% of Indians lived in villages, and 70% depended on agriculture... 28% were landless labours (this, as one would notice, has not changed much)
70% of cultivated land was owned by a handful of zamindars and money-lenders.
We were producing

52

million tonnes in 1950-51 and are today producing

257

million tonnes
From a food importing country we are now exporting, though it is also a fact that a large number of population is not fed, whereas godowns are full.
Only 3% of India's workforce (less than 9mn) was employed in manufacturing sector.
Jute and cotton industry accounted for 30% of the total industrial employment (and about 55% of value-added to manufacturing)
Indian farmers owned 0.9mn iron plough, and 31.3mn wooden plough.
Across the total population, even in 1950-51, there were just about 168,000 telephones.
Only 27% of cultivated land was irrigated.
In 1951, there were just 37,000 towns and villages (out of around 5,000 cities and 500,000 villages) with electricity
There were 9 agricultural colleges with around 3,000 students.
There were just 10 medical colleges that turned out about 700 doctors every years. In 1951 census, India had about 18,000 doctors... We also had 1,900 hospitals and 6,500 dispensaries, accounting for around 1.2lac (.12mn beds) - for a population of 300mn.
There were a total of 7 engineering colleges, with around 2,200 students.
In 1950, India produced 7 locomotives, 1mn tons of steel, 99,000 bicycles, 33mn tons of coal, 2.7mn tons of cement, 33,000 sewing machines,
India had a total number of 27 universities/colleges in 1950.
The total number of enrollment of students from primary to pre-degree education, in 1950-51, was less than 25mn.
There were around 6,500 newspapers and periodicals (nationals and vernacular) and 26 radio centers.
Even as late as 1955, India had just about 790,000 engineering degree/diploma holders.
There were a total of 1125 companies listed on the stock exchange (there were only two of them - Bombay and Calcutta)
India hardly had any large-scale industry in 1947, which could process the raw-material into finished usable goods. There were a few industries in the cotton, jute, sugar, matches, and steel sectors, etc. - but they were too few to really service the country's needs. About 65-70% of India's less-than-Rs.600cr export consisted of raw material (cotton, oilseeds, minerals and ores, tobacco, etc.); around the same proportion of its imports were finished goods (ranging from biscuits, sewing needles, cloth etc., to dress-material, medicines to machines-tools). In fact, even in 1950, India was importing 90% of its requirement of machine tools.
Local enterprise was confined largely to trade and commerce, mainly in and around port cities like Bombay, Calcutta and Madras.
A few industrial centres grew around these cities through private entrepreneurship.
There had been an adverse impact on the artisan sector under British rule.
The old crafts were left to languish and decay - ill prepared to modernise.
Large factories, few in number, produced mainly consumer goods, like textiles
Intermediates like

steel, cement and jute machinery were mostly imported.
The extremely narrow base of industrialisation remained confined to a very few cities and states and was the monopoly of a few privileged families.
The export strategy was not conducive to the country's interests.
Exports were seen as a mechanism to transfer raw materials cheaply to the metropolitan cities in the United Kingdom, which, in turn, processed them into final goods for exporting back to the colonies.
India's industrial output was

25% of worlds industrial output in 1770 AD

.

When British left after 200 years of various form of rule

India had 0.1% of worlds industrial output

2) Literacy was left at 13% and 3) Average life expectancy of Indians was brought to measly 37 years

MANY PRESENT DAY RULERS ARE BLAMING NEHRU FOR SLOW GROWTH //HINDU RATE OF GROWTH OF 3% PER YEAR
I WHO SAW IT ALL CONGRATULATE NEHRU FOR PULLING THROUGH FROM 1947 TO 1965 WHEN HE DIED
THIS WAS INDIA 1947
maps1947
www.columbia.edu
A news bureau map from August 1947, pre-Partition, attempts to represent the complexities of the situation; *the original caption*
INDIA OFFICIAL MAP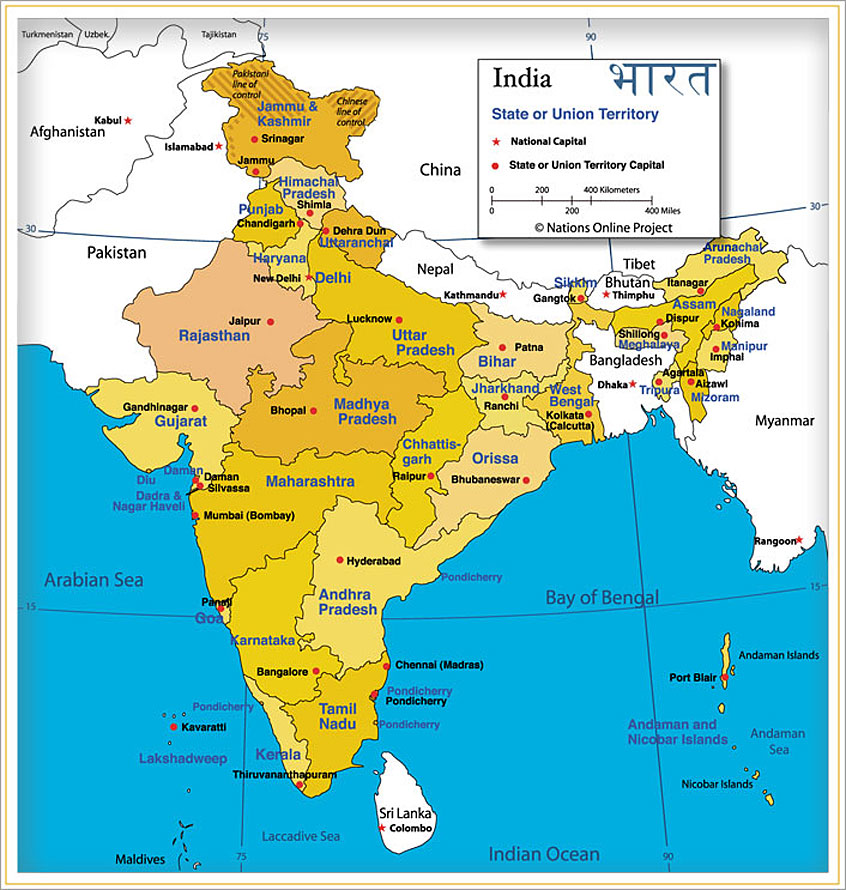 IF NEHRU WAS NOT THERE INDIA COULD HAVE DISINTEGRATED INTO
1

-DRAVIDNADU UNDER DRAVIDA KAZAGAM PARTY
Dravida Nadu - Wikipedia, the free encyclopedia
https://en.wikipedia.org/wiki/Dravida_Nadu
Jump to Justice Party - In 1939, E.V.Ramasamy
Dravida Nadu - Wikipedia, the free encyclopedia
India 1958 Tamil postcard with Annadurai & DMK Dravida Nadu flag ...
www.pinterest.com
India 1958 Tamil postcard with Annadurai & DMK Dravida Nadu flag | Postcards and Flag
2

-PUNJABI SUBA-
Punjabi Suba movement - Wikipedia, the free encyclopedia
https://en.wikipedia.org/wiki/
Punjabi
_
Suba
_movement
3

NAGA LAND-
National Socialist Council of Nagaland - Wikipedia, the free ...
https://en.wikipedia.org/wiki/National_Socialist_Council_of_
Nagaland
Naga movement: A brief history and peace accord with the Indian ...
zeenews.india.com › Exclusive
Aug 4, 2015 -

On 14th of August 1947
4

FREE HYDERABAD MOVEMENT UNDER KING/NIZAM
Razakars (Hyderabad) - Wikipedia, the free encyclopedia
https://en.wikipedia.org/wiki/Razakars_(Hyderabad)
The Razakars were a private militia organised by Qasim Razvi to support the rule of Nizam
www.columbia.edu
1023 × 882
Search by image
Indian troops invade and seize the princely state of Hyderabad in 1948, a map from the archives of the Chicago Sun-Times; *the original caption
Indian integration of Hyderabad - Wikipedia, the free encyclopedia
https://en.wikipedia.org/wiki/Indian_integration_of_Hyderabad
Operation Polo, the code name of the Hyderabad "Police Action" was a military operation in ... The State of Hyderabad under the leadership of its 7th Nizam
5

FREE TRAVANCORE STATE UNDER CP RAMASWAMY IYER
K. C. S. Mani - Wikipedia, the free encyclopedia
https://en.wikipedia.org/wiki/K._C._S._Mani
Konattumatam Chidambara Subrahmania Iyer, known better as K. C. S. Mani
https://books.google.co.in/books?isbn=812501585X
... on June 11, 1947, announced the decision of Travancore State to declare itself ... Encouraged by Jinnah's promise of the use of Karachi as a.free port, arms ...
6
GUJARAT -JUNAGADH-MUSLIM KING WANTED TO JOIN PAKISTAN IN 1947
Junagadh is the headquarters of Junagadh district in the Indian state of Gujarat. The city is the 7th largest in Gujarat, located at the foot of the Girnar hills, 355 km south west of state capital Gandhinagar and Ahmedabad.
Wikipedia
https://en.wikipedia.org/wiki/Integration_of_Junagadh
Junagadh was a princely state of British India, located in what is now Gujarat, outside but under the suzerainty of British India. In the independence and partition of British India of 1947, the 552 princely states were given a choice to either join the new Dominion of India or the newly formed state of Pakistan. ... The Nawab of Junagadh, Muhammad Mahabat Khanji III, a Muslim whose ...
At the time of Indian independence in 1947, India was divided into two sets of territories, one .... Some, such as the rulers of Bikaner and Jawhar, were motivated to join India .... The biggest problems, however, arose with a few border states, such as Jodhpur, which tried to negotiate better deals with Pakistan, with Junagadh, ...

AND MANY MORE PIECES/KINGDOMS IF NOT FOR NEHRU AND SARDAR PATEL



This complete newsreel with original narration shows Indian Prime Minister Jawaharlal Nehru visiting Srinagar in November 1947 ...
=============================================
View the World: Cru=el Acts and War Crimes during British rule in India
================================================
IN 1947 TO 1975 THERE WERE 3 WARS WITH PAKISTAN
https://en.wikipedia.org/wiki/Indo-Pakistani_War_of_1947
The Indo-Pakistani War of 1947–1948, sometimes known as the First Kashmir War, was fought .... The first clash occurred at Thorar on 3–4 October 1947. On 22 ...
https://en.wikipedia.org/wiki/Indo-Pakistani_War_of_1965
Jump to Assessment of losses - India and Pakistan make widely divergent claims about the damage they inflicted on ... Aerial victories, 17 + 3 (post war), 30,
https://en.wikipedia.org/wiki/Indo-Pakistani_War_of_1971
The Indo-Pakistani War of 1971 was the direct military confrontation between India and Pakistan during the Bangladesh Liberation War in 1971. Indian ...
https://www.youtube.com/watch?v=0BqHd05FOo4
Jul 17, 2013 - Uploaded by Mukesh Saini
The Kargil War was an armed conflict between India and Pakistan that ... 3:45. India Pakistan Kargil War Is ...
ONE WAR WITH PORTUGUESE SOLDIERS OF GOA -AND GOA WAS LIBERATED
ONE BIG FAMINE OF 1960'S WHEN AMERICAN FOOD SHIPS HELPED
REMAINING TIME 1975 TO 1990 THERE WERE MANY GOVERNMENTS OTHER THAN CONGRESS RULING INDIA
1990 LIBERALISATION OF ECONOMY UNDER PRIME MINISTER RAO AND FINANCE MINISTER
https://en.wikipedia.org/wiki/Economic_liberalisation_in_India
The economic liberalisation in India refers to the ongoing economic liberalisation, initiated in .... The Chandra Shekhar Singh government (1990–1991) took several ... In response, Prime Minister Narasimha Rao, along with his finance minister ... after the sector was first opened to foreign investors up to 26% under the first ...
Prime Ministers
№
Name
(birth–death); constituency
Portrait
Party
(Alliance)
Term of office[2]
Elections
(Lok Sabha)
Council of
Ministers
Appointed by
1
Jawaharlal Nehru
(1889–1964)
MP for Phulpur
Indian National Congress
15 August
1947
27 May
1964[†]
16 years, 286 days
—
Nehru I
Lord Mountbatten
1952 (1st)
Nehru II
Rajendra Prasad
1957 (2nd)
Nehru III
1962 (3rd)
Nehru IV
–
Gulzarilal Nanda
(1898–1998)
MP for Sabarkantha
Indian National Congress
27 May
1964
9 June
1964
13 days
– (3rd)
(acting)
Sarvepalli Radhakrishnan
2
Lal Bahadur Shastri
(1904–1966)
MP for Allahabad
Indian National Congress
9 June
1964
11 January
1966[†]
1 year, 216 days
– (3rd)
Shastri
–
Gulzarilal Nanda
(1898–1998)
MP for Sabarkantha
Indian National Congress
11 January
1966
24 January
1966
13 days
– (3rd)
(acting)
3
Indira Gandhi
(1917–1984)
MP for Rae Bareli
Indian National Congress
24 January
1966
24 March
1977
11 years, 59 days
– (3rd)
I. Gandhi I
1967 (4th)
1971 (5th)
I. Gandhi II
V. V. Giri
4
Morarji Desai
(1896–1995)
MP for Surat
Janata Party
24 March
1977
28 July
1979[RES]
2 years, 126 days
1977 (6th)
Desai
B. D. Jatti
5
Charan Singh
(1902–1987)
MP for Baghpat
Janata Party (Secular)
with INC
28 July
1979
14 January
1980[RES]
170 days
– (6th)
C. Singh
Neelam Sanjiva Reddy
(3)
Indira Gandhi
(1917–1984)
MP for Medak
Indian National Congress (I)
14 January
1980[§]
31 October
1984[†]
4 years, 291 days
1980 (7th)
I. Gandhi III
6
Rajiv Gandhi
(1944–1991)
MP for Amethi
Indian National Congress (I)
31 October
1984
2 December
1989
5 years, 32 days
– (7th)
R. Gandhi
Zail Singh
1984 (8th)
7
V. P. Singh
(1931–2008)
MP for Fatehpur
Janata Dal
(National Front)
2 December
1989
10 November
1990[NC]
343 days
1989 (9th)
V. P. Singh
R. Venkataraman
8
Chandra Shekhar
(1927–2007)
MP for Ballia
Samajwadi Janata Party
with INC
10 November
1990
21 June
1991
223 days
– (9th)
Chandra Shekhar
9
P. V. Narasimha Rao
(1921–2004)
MP for Nandyal
Indian National Congress (I)
21 June
1991
16 May
1996
4 years, 330 days
1991 (10th)
Rao
10
Atal Bihari Vajpayee
(born 1924)
MP for Lucknow
Bharatiya Janata Party
16 May
1996
1 June
1996[RES]
16 days
1996 (11th)
Vajpayee I
Shankar Dayal Sharma
11
H. D. Deve Gowda
(born 1933)
MP (Rajya Sabha) for Karnataka
Janata Dal
(United Front)
1 June
1996
21 April
1997[RES]
324 days
– (11th)
Deve Gowda
12
Inder Kumar Gujral
(1919–2012)
MP (Rajya Sabha) for Bihar
Janata Dal
(United Front)
21 April
1997
19 March
1998
332 days
– (11th)
Gujral
(10)
Atal Bihari Vajpayee
(born 1924)
MP for Lucknow
Bharatiya Janata Party
(NDA)
19 March
1998[§]
22 May
2004
6 years, 64 days
1998 (12th)
Vajpayee II
K. R. Narayanan
1999 (13th)
Vajpayee III
13
Manmohan Singh
(born 1932)
MP (Rajya Sabha) for Assam
Indian National Congress
(UPA)
22 May
2004
26 May
2014
10 years, 4 days
2004 (14th)
M. Singh I
A. P. J. Abdul Kalam
2009 (15th)
M. Singh II
Pratibha Patil
14
Narendra Modi
(born 1950)
MP for Varanasi
Bharatiya Janata Party
(NDA)
26 May
2014[3]
Incumbent
2 years, 85 days
2014 (16th)
Modi
Pranab Mukherjee


ONLY BECAUSE OF NEHRU AND SARDAR PATEL INDIA SURVIVED

as one nation
some people still try to belittle

NEHRU'S CONTRIBUTION TO INDIA
=================================================
www.alephbookcompany.com/.../A-Long-Darkness-The-British-Empire-in-India.pdf
his explosive new book, A Long Darkness: e British Empire in India. ABOUT THE BOOK. In 1930, the American historian and philosopher Will Durant wrote that ...
=================================================
blog:-
[
HOW INDIA PROGRESSED FROM ONE AMONG THE POOREST 10 NATIONS TO ONE AMONG THE RICHEST 10 NATIONS IN 50 YEARS TIME

]
================================================================================
THOSE WHO THINK JUST INFRASTRUCTURE PROGRESS WILL PULL INDIA OUT OF POVERTY ARE WRONG




SMART CITY AND BULLET TRAIN,ETC ETC WILL ONLY PULL OUT A MAXIMUM OF 60 % INDIANS OUT OF POVERTY
THOSE WHO GAIN MOST WILL BE CONTRACTORS WHO DO INFRASTRUCTURE WORK FOR GOVERNMENT


LET HISTORY OF INDIA DECIDE AFTER 50 YEARS;

[2066]

WHETHER INFRASTRUCTURE BROUHAHA WAS CORRECT OR WRONG