Hyderabad State
From Wikipedia
Nizam decided to keep Hyderabad independent. The leaders of the new Union of India however, were wary of having an independent - and possibly hostile - state in the heart of their new country. Most of the other 565 princely states had already acceded to India or to Pakistan voluntarily. The Indian government was therefore determined to annex Hyderabad into the Indian Union, by force if necessary.
In September 1948, India launched a military operation named
Operation Polo
, led by
Sardar Vallabhbhai Patel
, then
Minister of Home Affairs
and
Deputy Prime Minister of India
. The
Indian Armed Forces
invaded the State of Hyderabad and overthrew Nizam.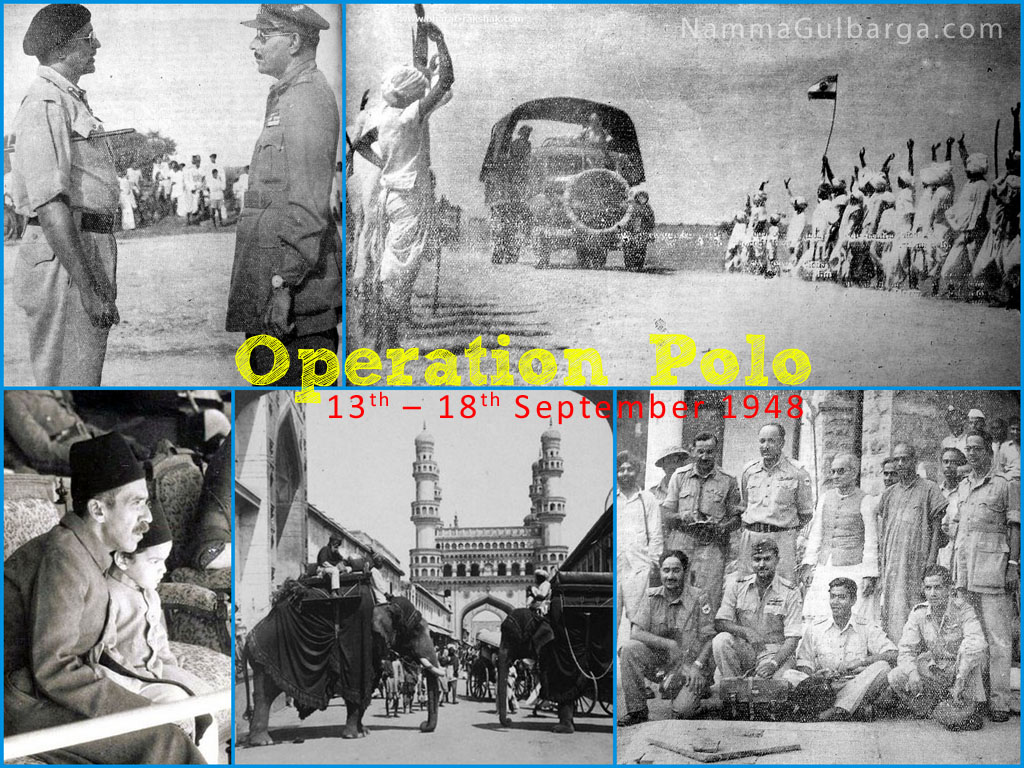 [3]
[4]
hyderabad king -NIZAM- and sardar vallabhai patel
en.wikipedia.org/wiki/Operation_Polo
Operation Polo, the code name of the Hyderabad Police Action was a military operation in September 1948 in which the Indian Armed Forces invaded the State ...
On 18th September 1948, Operation Polo was terminated after the Indian Army accepted the surrender of the Nizam of Hyderabad's army.
===================================================
in-exile, the Aarzi Hukumat (in Urdu: Aarzi: Temporary, Hukumat: Government) of the people of Junagadh. Eventually, Patel ordered the forcible annexation of Junagadh's three principalities. Junagadh's state government, facing financial collapse and lacking forces with which to resist Indian force, invited the Government of India to take control. A plebiscite was conducted in December, in which approximately 99% of the people chose India over Pakistan
hidf1.files.wordpress.com/.../the-story-of-the-integration-of-the-indian-st...

The author with the Maharajah of Travancore inaugurating the Travancore-Cochin ... pioneering effort in this direction was made by the Magadhan kings, ...... Nehru andVallabhbhai Patel 1 suggested that, though there was no specific agenda, the ...... I then brought down the discussion to the personal plane, assuring.
THE STORY OF THE
INTEGRATION
OF THE
INDIAN STATES
V. P. MENON
LONGMANS, GREEN AND CO
LONDON · NEW YORK · TORONTO
-----------------------------------------------------------------------------------------------------------------
varnam.nationalinterest.in/2003/08/forgotten_events_how_travancor/
Aug 4, 2003 -

Travancore was again in the vortex of a political struggle and the ... [Source: "Kerala's Politics":http://www.keralaspolitics.com/html/history.htm] This series .... not agreeing with total integration (Travancore's sovereignity will be ..





Forgotten Events: How Travancore joined the Union

The present state of Kerala is made up of three princely states, Travancore, Cochin and Malabar. When the British announced their withdrawal from India, the Diwan of Travancore, Sir. CP Ramaswamy Iyer announced that Travancore would establish itself as an independent state and would not join the Indian Union.


bq. The action of Diwan aroused a bitter controversy inside and outside the State. Travancore was again in the vortex of a political struggle and the Government resorted to a series of repressive measures to meet the situation. One of the highlights of the struggle was a police firing at Pettah, Trivandrum, in which three persons including a student by name Rajendran were killed. A few days after the incident, an unsuccessful attempt was made on Sir C.P. Ramaswamy Iyer's life when the Diwan was attending a function in the Swathi Thirunal Academy of Music at Trivandrum (July 25, 1947). The Diwan escaped with minor injuries and very soon left the State for good. Immediately after this incident the Maharaja intimated, to Lord Mountbatten, the Governor-General, his decision to accept the Instrument of Accession and take Travancore into the Indian Union. Sir C.P. Ramaswamy Iyer resigned the office of Diwan on August 19, 1947 and was succeeded in that office by P.G.N. Unnithan.

[Source: "Kerala's Politics":http://www.keralaspolitics.com/html/history.htm] This series is part of "15 days of Independence":http://www.madhoo.com/archives/002681.php#002681

6 Responses to Forgotten Events: How Travancore joined the Union

===============================================




News



Thursday , June 12, 2014 at 16 : 50
Should God's own country become God's own independent country?
For thousands of years, Malayalees have had a special relationship with God in his own special country. A growing number of Malayalees feel it is now time they called it their own country.
If God loved pomp and praise, there is nothing more pompous than the way he is paraded in Kerala, on the heads of majestic elephants attired in inimitably ornate golden trappings, enshrined on golden hallowed cathedra under colourful parasols and fanned by equally ornate alavattams and venchamarams.
If God loved music, there is nothing more exhilarating and praising than the uniquely keralite panchari melam of divine instruments to which he is taken on a procession.
If God loved his stories being played out, there is indeed no form of performing art which can transport gods and humans alike to the realms of the divine through sight, sound and light, like the Kathakali the Malayalees have brought to perfection.
If God was Hindu, there was never ever a greater apostle for him than Lord Sankara of Kerala and there is no other part of India which has grasped the essence and spirit of Hinduism, beyond rhetoric, as their way of life.
In fact Narendra Modi and the BJP should be thankful to Lord Sankaracharya for saving and reviving Hindutwa and bequeathing it strong and healthy enough for them to exploit it centuries later for the sake of grabbing political power.
It is indeed the life of Sankaracharya the BJP should celebrate more than that of any other Hindutwa leader. To atone their sin of negligence, perhaps they should even move the BJP headquarters to Kalady in Kerala, the birth place of Lord Sankara on the shore of the beautiful Periyar river.
Yet when much of rest of the Republic of India, in which Kerala belongs, has turned undoubtedly Hindu, the Malayalees have elected and sent twenty members who do not subscribe to the Hindu political ideology, even remotely, to the nation's parliament, despite majority of them being Hindus.
It is not the first time when Kerala or a particular state has cast their votes differently from a general trend which has swept the nation.
However when this election has finally converted India to be a nation governed by religious ideology, much like its neighbours Pakistan, Srilanka, Indonesia, Malaysia and others, many Malayalees wonder if Kerala with its sizable Muslim and Christian population has moved far to make it tenable to exist as part of a Hindu nation.
Many see the writings on the wall. Despite the fact that several Malayalees have been somehow raised to and occupied key positions including that of the president and chief justice of India in the past, when it comes to political power and decisions affecting their lives, somehow Kerala has let itself to be pushed around for long. They don't see any leader of the present generation rising strong enough like a Mamta or Jaya to argue their case. The scepticism is not without reason.
Kerala is perhaps the only place in the world where its own river, the water and benefits of which flow backwards, is blocked by an archaic dam, bursting of which can wipe out one third of its population while they have no right to do anything about it.
Despite loving and living a nearly balanced life with its abundant greenery and forests for thousands of years, Kerala's environmental priorities are to be decided by political powers which rest thousands of miles away in baron land.
Despite earning millions of dollars for the nation by toiling in harshest of conditions, Kerala still has to wait for a wagon factory or xyz investment by the central government, promised and forgotten.
Even the mighty coastal states of West Bengal, Orissa and Tamil Nadu, which have just escaped the onslaught of religious polarisation of the BJP, won't let Kerala be a part of the power block they will create in the parliament to extract benefits from the Modi government for their states.
Where does all that leave Kerala with its handful of parliamentarians which stands isolated and marginalised?
You don't have to be a great political pundit to see how things will evolve in the next decade.
The inroads BJP and its Hindu polarisation have made in the three coastal states are deep enough for its onslaught to be unstoppable. Any financial and developmental money the current leaders will extract will only go in favour of Modi and the BJP and reasons for whole hearted support during next election.
The question is only how soon that will happen. Perhaps in five years, perhaps in a decade, but India will surely be a larger Hindu nation, including even the coastal states.
Will the Hindus of Kerala fall in line? Perhaps with huge dollops of development and money even they can be bought.
But are they enlightened enough to realise that as an
independent country
Kerala will and can have much more?
The section of Malayalees who think so are not alone. Such feelings do take shape elsewhere in the world like Scotland in the United Kingdom and part of California in the United States.
The stark reality is that with a multitude of languages and religions, India is more like the European Union than the United States. As a nation it remained united only under a threat of aggression. Trying to achieve the cohesion by religious polarisation can throw some surprises.
Will the people of Kerala be pushed in to dreaming of their own God's country will depend on how tolerant and comfortable they will get with the idea of being part of religious governance?
More about Sreedhar Pillai
After graduating in mechanical engineering and spinning a rewarding career spanning from mining to metal cans in the steel industry, Sreedhar Pillai loves to look at and write about softer aspects of life around us. He likes to look at the world through the swinging needle of a balance rather than the cross hairs of a rifle. Sreedhar Pillai is a also an avid blogger and influencer who writes for Huffington Post, Technorati and others. LASTING ROSE is the personal blog of Sreedhar Pillai who also works as a content provider and technical writer. Besides technical articles about the social web he also often writes about current Indian affairs, with a view from the world outside.
====================================================
COMMENT:-
some people write blogs without knowing history of INDIA
=========================
related news

:-
IBN HAS FOREIGN OWNER SHIP? READ BELOW WIKIPEDIA
CNN-IBN
From Wikipedia, the free encyclopedia
CNN-Indian Broadcasting Network
(
CNN-IBN
) is an English-language news and current affairs television channel based in
Noida
,
Gautam Buddh Nagar
,
Uttar Pradesh
. It is jointly owned by
TV18 Broadcast Limited
(joint venture between
NBCUniversal
and
Network18
) and
Turner International India (Time Warner Incorporated).[1]
CNN
provides international coverage for the channel, while Indian Broadcasting Network concentrates on Indian and local reports.
[2]
The channel, like most of the other Indian English news-channels, is known for using a type of
Indian English
influenced by
Hindi
.
[3]
==========================
"NOT WORTH ANOTHER WORD"

from me
WHEN WIKIPEDIA SAYS IBN IS OWNED BY US INTERESTS
[SHOWS FOREIGN COUNTRIES ARE STILL TRYING TO DISINTEGRATE INDIA ]
===========================
en.wikipedia.org/.../Covert_United_States_foreign_regime_change_actio...

However, Peter Kornbluh asserts that the CIA destabilized Chile and helped ... with simple hand-held weapons is an inspiration to those who love freedom." ...... that his two brothers made contact with the CIA during a trip to India in 1956.

'Dutch-funded NGO trying to stop oil drilling in Manipur'

2 days ago -

Who are the NGOs in India with maximum funding in India? ... the administration and that they are now investigating all NGOs and their funding. ... "Many NGOs that do receive foreign funding are not covered under the Right to ...

23 hours ago -

Non-profit organisations continue to be under the scanner of the home ministry ... Investigation Team to look into the issue of their foreign funds.

---

Economic Times

‎- 2 hours ago

The UPA government had suspected that foreign funds were being ... Reeling under sweltering summer, Delhi tries to remain cool ...



=================================================================


comment:- foreign countries are still trying to disintegrate India