CLICK

:-Kaithamukku
Karalkada
Karalkada has been selling quality handloom cloth for the past 150 years. The facade of the shop has remained unchanged over the years. It resembles the spacious veranda of an old-fashioned house. Customers and salesmen sit on the floor of this porch, which is completely covered with rush mats. `Karal' is the corruption of the Arabic word `Karar', which means an agreement that is binding. Another notable institution in Kaithamukku was the Athreya Ashram which is an Ayurvedic Pharmacy, which sold oils and compounds that were said to be proven remedies for sinusitis and piles. The itinerant Namboothiris, who gravitated to Thiruvananthapuram during Mura-Japam, must have again played a part in popularising the medicines sold by the pharmacy

.
Pictures and images of old Kaithamukku have been partially or wholly effaced. The old SNDP building wh the great Poet Kumaran Asan held the office of the secretary exists no more. On its site stands the multi-storeyed structure housing the Passport Office. Even as modern Kaithamukku bustles with new commercial interests, places such as Karalkada revive old memories.
Old timers of Thiruvananthapuram still shop at Kaithamukku for handloom clothes, Ayurveda medicines . It is also fast catching on as a centre where one can buy hot banana chips straight from the kadai and also for Parotta and sizzling Chicken or Beef fry.
(Courtesy -The Hindu 19/04/2004)
Kaithamukku junction today
Kaithamukkil House
As Cunjummen's family was the only Christian family in that area, others used to call 'Kaithamukkil Kristhyan Veedu' (Kaithamukkil Christian House) and which later became the short name 'Kaithamukkil Veedu'. The exact family name from Thiruvithamcode is currently not known .As in the history of most of the ancient Syrian Christian families which got their names connected to any trees or lands as a landmark of their settlement, this family was known with the name Kaithamukkil family atleast since 1850s.The ancient house was situated east -west direction with the main door facing north. The compound wall in the front was made of hard stones and the entrance had a traditional Padipura called Kottiyambalam with Kalvilakku .
On the pillars of the gate there were two statues of lions on either side.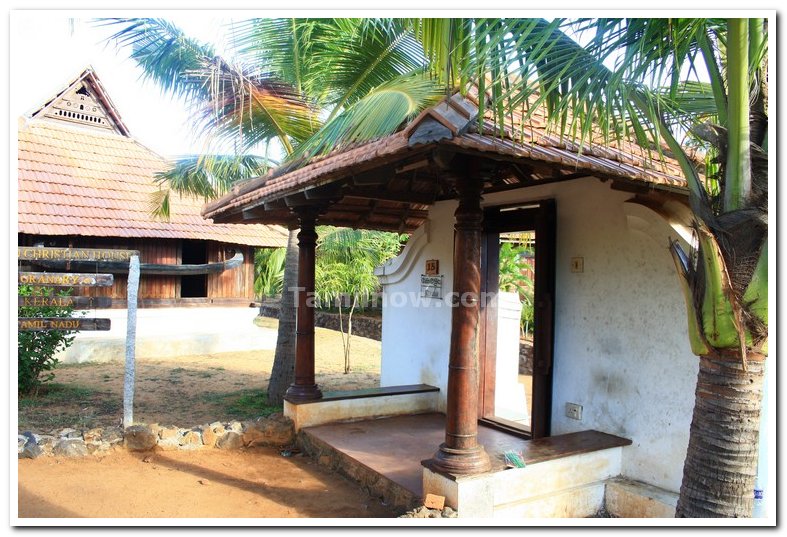 Padippura kerala
The present tharavadu was constructed in Malyalam year 1124 by Kaithamukkil Thomas Cunjummen who was the youngest son of Cunjummen . The portion of the ancient house was retained in the original shape at that time. It is said that the timber required for the construction of the houses were brought from Thevalakkara through the backwaters
which was the common mode of transport of goods to and from capital to other part of the country through Ashtamudi lake,
Veli Lake and Parvathi Puthanar to Chackai boat house in Pettah and Vallakadavu.
The old structure house was demolished an a new house was built in that place in 2007 and in memory of the ancient structure a portion of a wall retained which has been incorporated into the present compound wall.
Kaithamukku - Kaithamukkil Syrian Christian Family of Trivandrum
:-Forefathers -