SAHITYA AKADEMI AWARD Edasseri received the National Sahitya Akademi Award for poetry in the year 1970 for "Kavile Pattu" a collection of poems. He has also received the Kerala Sahitya Akademi Award for poetry in 1969 for his collection of poems "Oru Pidi Nellikka". He had earlier received Madras Government Awards for his Play "Koottukrishi" and collection of poems "Puthan Kalavum Arivalum". He was postumuously awarded the Kumaran Asan Prize in the year 1984 for his collection of poems "Anthithiri."

RECEPTION IN PONANI IN 1966
Edasseri's 60th birthday was celebrated three days with literary meets, lectures by eminent writers and cultural programs. Edasseri was taken in a procession to the stage. Walking with him are G. Sankara Kurup, the Gyanpeeth Award winner, Akkitham Achyuthan Namboothiripad, Uroob etc.

Edasseri's photos are rare. We are trying to get more photos from people who might be having them.

With wife and youngest daughter - snap taken around 1970.


With Uroob. Uroob is the pen name of P.C. Kuttikrishnan. He was a prominent member of the literary circle that had formed in the 30s in Ponani. Others in the group are eminent critic Kuttikrishna Marar, E. Narayanan , E. Kumaran, Akkitham, Kadavanad Kuttikrishnan, T. Gopala Kurup, Padmanabhan Master, E.P. Sumithran, P. Narayanan Vaidyar, and T.V. Shoolapani Warriyar.

Photo taken at anniversary celebrations of Samastha Kerala Sahitya Parishat - seated on the front row, extreme right is Edasseri. A rare photo of prominent poets, novelists and critics together.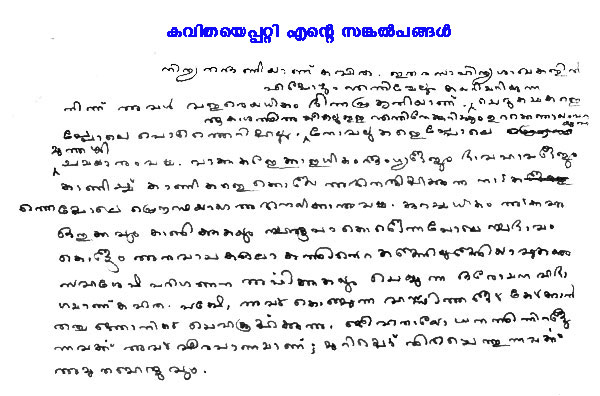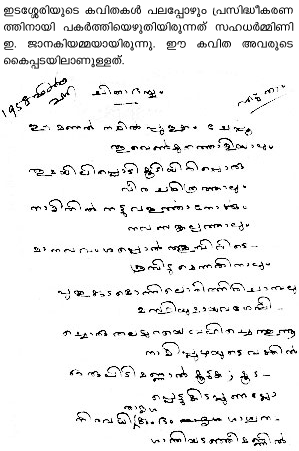 Please wait while the audio file loads........
In case if the file does not stream on your computer,
please right click the photo and use the option
'Save Target As' to download the voice file.
You may download the full text of Edasseri Speech, duration 10 mts, 2.92 by
right clicking and 'save target as' to your disk. Please click here.
Full version available as an audio cassette with Sathyam Audios,
1st floor, GSS Shopping Complex
Convent Road, Kochi 682 035, Kerala, India
Phone: (0484) 2362242
A snap of the procession at Edasseri's 60th birthday celebrations.


When Koottukrishi was staged by the second generation of artists at Kripa Productions, the art wing of Krishna Panikkar Reading Room and Library.

Standing: 1) P. Padmanabhan Nair 2)K.V. John, 3)K.V. George, 4)? 5)Rajendran, 6) K.A. Balachandran, 7)Vijayakumar, 8) Vakkuttil Arumughan.
Sitting Middle: 1) E. Unnikrishnan, 2)V. Bhaskaran, 3) T. Gopalakurup, 4) P.K. Gopala Menon, 5) M.N. Muhammedkutty.
Sitting Front: 1)E. Satish Narayanan, 2) E. Balabhaskaran, 3) E. Raman, 4) Narayanan Nair.

Reception at A.V. High School, where Edasseri's 60th birthday celebrations were conducted. Mahakavi G. Shankarakurup, veteran freedom fighter K. Kelappan, P. Narayanan Vaidyar, jointly with whom Edasseri established Krishna Panikkar Reading Room and Library in Ponani, are in the picture.


Another snap from the reception at A.V. High School, Ponani.


A family photo taken around 1965.


Thanksgiving at the final day of 60th birthday celebrations.