THE OLDEST CIVILIZATIONS USED SUN DIALS
SUMERIANS DEVELOPED A CALENDAR 5000 YEARS AGO .[MONTH HAD 30 DAYS AND DAY HAD 12 HOURS ]
Mankind's first calendar with the pictures of the four sources of life - the air, the water, the earth, four cardinal points, twelve months.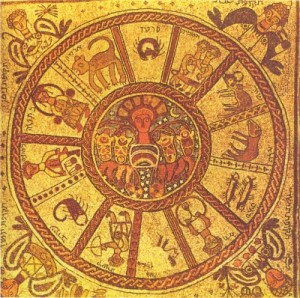 The Twelve parts of the Zodiac are the twelve (4×3) possible combinations of the Four Tetramorph.
Will McWhinney calls the twelve combinations "Games" or "Conflicts" because it is impossible to Unite the Four Tetramorphs.
They represent a Tension or a Force. We have to learn to Balance the Four Forces so they are able to Unite in the Center, T