SHE is the perfect wife, with the body of a Page 3 pin-up and housekeeping skills that put TV's Kim and Aggie to shame.

Android Aiko knows speaking, reading, can recognize color, face, objects, able to tell weather, can understand more than 13,000 sentences, can solve math and able to distinguish simple drinks and foods. She will be able to walk in the near future.
If you think she is not perfect enough because you can't have "sex life" with a robot wife, then you are wrong! According to Le, "her software could be redesigned to simulate her having an orgasm."


Aiko is actually a robot, a fantasy brought to life by inventor Le Trung.
AIKO THE FEMALE ROBOT TALKING TO LE TRUNG
SOON EVERYBODY WILL BE SURPRISED BY THE EVENTS OVERTAKING OUR PERSONAL LIVES;ROBOTS; SOMETHING MORE INTIMATE AND WIDESPREAD THAN COMPUTERS AND CARS ARE TODAY
WHILE CARS , VEHICLES AND COMPUTERS ARE NEEDED; THEY ARE NEVER PART OF OUR PERSONAL AND INTIMATE DAILY LIFE, 24/7 AS ROBOTS ARE GOING TO BE IN FUTURE

PERSONAL ROBOTS :-I VISUALIZE THEM IN OUR HOMES IN EACH ROOM A DIFFERENT ROBOT ;OR SAME ROBOT MULTI TASKING VARIOUS JOBS AT HOME FROM COOKING ,SERVING,CLEANING,HOUSEKEEPING,EVEN AS A NANNY TO BABIES,TO PERSONAL HUMANIZED ROBOTS MALE AND/OR FEMALE; AS PERSONAL COMPANIONS FOR SENIOR CITIZENS AND YOUNGSTERS AND STUDENTS FOR VARIOUS PERSONAL AND INTIMATE NEEDS
As robots have become more advanced and sophisticated, experts and academics have increasingly explored the questions of what ethics might govern robots' behavior, and whether robots might be able to claim any kind of social, cultural, ethical or legal rights.
A moment may come when computers and robots are smarter than humansand how much these abilities might pose a threat or hazard. to humans
There are also concerns about technology which might allow some armed robots to be controlled mainly by other robots
Several such measures reportedly already exist, with robot-heavy countries such as Japan and South Korea[45] having begun to pass regulations requiring robots to be equipped with safety systems, and possibly sets of 'laws' akin to Asimov 's Three laws of robotics,and later laws:-
A robot may not injure a human being or, through inaction, allow a human being to come to harm.
A robot must obey any orders given to it by human beings, except where such orders would conflict with the First Law.
A robot must protect its own existence as long as such protection does not conflict with the First or Second Law.
A robot must establish its identity as a robot in all cases.
A robot must know it is a robot.
NDR-114 explaining the Three Laws
In March 2007, the South Korean government announced that later in the year it would issue a Robot Ethics Charter, setting standards for both users and manufacturers
Military robots:-
Flame Weapons -[Flamethrowers ]
Smothering Weapons [powered arm to drop down over opposing robots, covering and encircling them]
Multibots (clusterbots) – A single robot that breaks apart into multiple, independently controlled robots
Entanglement Weapons [Nets and streamers of adhesive tape were both tried with mixed success.]
An unmanned combat air vehicle (UCAV)
walking vehicles which are usually controlled by a pilot
Navy report warns of robot uprising posted

Feb 18th 2009
According to a report published by the California State Polytechnic University (with data made available by the U.S. Navy's Office of Naval Research) the sheer scope of the military's various AI projects is so vast that it is impossible for anyone to fully understand exactly what's going on.
And what we don't understand can eventually hunt us down and kill us. This isn't idle talk, either -- a software malfunction just last year caused US. Army robots to aim at friendly targets
South Korea to field gun-cam robots on DMZ Posted in Security, 14th March 2007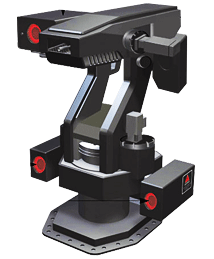 gun-cam robot
Scientists Worry Machines May Outsmart Man Published: July 25, 2009
This personal robot plugs itself in when it needs a charge. Servant now, master later?
Call for debate on killer robots Monday, 3 August 2009
Guardium autonomous observation and target intercept system ROBOT
Following a successful evaluation in 2005 Guardium was selected by the Israel Defense Forces to operate as part of the border security operations. By May 2008 the IDF received the first batch of Guardium UGVs scheduled to enter fully operational service along the countrie's borders by the year's end. In 2008 Israel's Airport Authority conducted an evaluation of the system as part of possible integration of an autonomous UGV as part of its airport security system.
U.S. Army Tests Flying Robot Sniper:-
Robotic age poses ethical dilemma:-
A recent government report forecast that robots would routinely carry out surgery by 2018.
The Ministry of Information and Communication has also predicted that every South Korean household will have a robot by between 2015 and 2020.
Imagine if some people treat androids as if the machines were their wives," Park Hye-Young of the ministry's robot team told the AFP news agency.
"Others may get addicted to interacting with them just as many internet users get hooked to the cyberworld."
A draft of the proposals said: "In the 21st Century humanity will coexist with the first alien intelligence we have ever come into contact with - robots.
"It will be an event rich in ethical, social and economic problems."
The SDR-4X developed by Sony to serve as a domestic robot and companion.
Living Safely with Robots:-
TOSY Ping Pong Playing Robot version 2
(PhysOrg.com) -- "In 1981, a 37-year-old factory worker named Kenji Urada entered a restricted safety zone at a Kawasaki manufacturing plant to perform some maintenance on a robot. In his haste, he failed to completely turn it off. The robot's powerful hydraulic arm pushed the engineer into some adjacent machinery, thus making Urada the first recorded victim to die at the hands of a robot."
But as robots are beginning to spread from industrial environments to the real world, human safety in the presence of robots has become an important social and technological issue.
"Next Generation Robots" will have relative autonomy, working in ambiguous human-centered environments, such as nursing homes and offices. Before hordes of these robots hit the ground running, regulators are trying to figure out how to address the safety and legal issues that are expected to occur when an entity that is definitely not human but more than machine begins to infiltrate our everyday lives.
One guiding principle of the proposed framework is categorizing robots as "third existence" entities, since Next Generation Robots are considered to be neither living/biological (first existence) or non-living/non-biological (second existence). A third existence entity will resemble living things in appearance and behavior, but will not be self-aware. While robots are currently legally classified as second existence (human property), the authors believe that a third existence classification would simplify dealing with accidents in terms of responsibility distribution.
when robots and other facsimiles of humans look and act almost like actual humans, it causes a response of revulsion among human observers
U-noa Quluts, a modern Japanese ball-jointed doll (BJD) BOT
Aiko", an early attempt at creating a realistic-looking female robot
EVER1 ROBOT GIRL
EveR-2 is more advanced than its predecessor, and is the first android in the world to have the ability to sing
Exaggeratedly feminine Fembots with guns in their breasts, from Austin Powers: International Man Of Mystery
Cyborg
A cyborg is a cybernetic organism (i.e. an organism that has both artificial and natural systems).
Machine-Brain Connections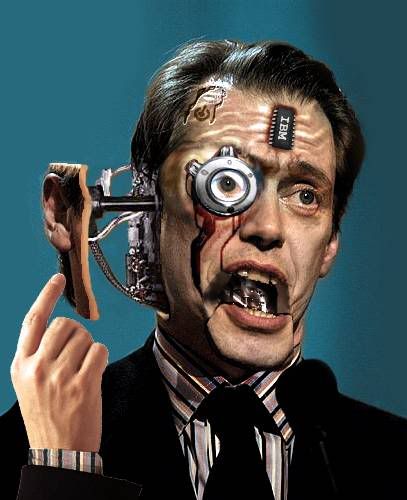 [1]Military seeks to develop 'insect cyborgs Monday, March 13, 2006(news)
[2]Military Plans Cyborg Sharks
The Pentagon's Beetle Borgs:-
cyborg beetle spy
spy fly in white house
Remote Controlled Cyborg Insect
cyborg spy fly
HOME ROBOTS:-

a robot used for household chores
[1]SCOOBA>

automated robotic floor washer
First generation Roomba [ROBOT]vacuums the carpets in a domestic environment
[2] ROOMBA >PHOTO
Serving robot at the "Ubiquitous Dream" exhibition in Seoul, Korea on June 24, 2005
Husqvarna ROBOTC LAWN MOWER IN ACTION
robotic floor duster
Weda B480 automated pool cleaner[ROBOTIC SWIM POOL CLEANER
SONY'S ROBOTIC PET DOG 'AIBO'
One of the many "first generation" variations of Classic (1998) Furby
a Japanese domestic robot made by Mitsubishi Heavy Industries, primarily intended to provide companionship to elderly and disabled people. The robot is yellow, 1m tall, and weighs 30 kilograms. It has two arms and its flat, circular base has a diameter of 45 cm. The first hundred went on sale in September, 2005, for USD $14,000.
Paro is a therapeutic robot baby harp seal, intended to have a calming effect on and elicit emotional responses in patients of hospitals and nursing homes, similar to Animal-Assisted Therapy.
Sony QRIO 2003
Nao robot in Webots RoboCup soccer
REEM-A(2006)
humanoid robots can recognize and grasp objects, lift heavy weights and go around by itself inside building complex, avoiding obstacles (Simultaneous localization and mapping). The robot accepts voice commands and recognize faces.
REEM-B(2008)
Albert HUBO, the latest humanoid

developed by the Korea Advanced Institute of Science and Technology (KAIST) and released on January 6, 2005.
Toyota Partner RobotS
Robotics TimeTABLE
Robots capable of manual labour tasks--


2009 - robots that perform searching and fetching tasks in unmodified library environment, Professor Angel del Pobil (University Jaume I, Spain), 2004
2015-2020 - every South Korean household will have a robot and many European, The Ministry of Information and Communication (South Korea), 2007
2018 - robots will routinely carry out surgery, South Korea government 2007
2022 - intelligent robots that sense their environment, make decisions, and learn are used in 30% of households and organizations - TechCast
2030 - robots capable of performing at human level at most manual jobs Marshall Brain
2034 - robots (home automation systems) performing most household tasks, Helen Greiner, Chairman of iRobotmilitary robots
2015 - one third of US fighting strength will be composed of robots - US Department of Defense, 2035 - first completely autonomous robot soldiers in operation - US Department of Defense, 2038 - first completely autonomous robot flying car in operation - US Department of Technology, 2007
Developments related to robotics from the Japan NISTEP 2030 report :
2013-2014 — agricultural robots (AgRobots
2013-2017 — robots that care for the elderly





2017 — medical robots performing low-invasive surgery
2017-2019 — household robots with full use.
2019-2021 — Nanorobots
2021-2022 — Transhumanism

Articulated robot[INDUSTRIAL ROBOS]
A six-axis FANUC welding robot reaching into a fixture to weld.
Spot Welding Robot
Flat-glas handling, heavy duty robot with 500 kg payload
Robots palletizing food (Bakery)
Loading Tooling ROBOT
Swarm robotics:-
a new approach to the coordination of multirobot systems which consist of large numbers of mostly simple physical robot
Robots with a mind of their own
Screenshot of an e-puck robot simulated with Webots
E-puck mobile robot:-
Lego Mindstorms:-Lego Mindstorms is a line of programmable robotics/construction toys, manufactured by the Lego Group
.
Golf bot" – a robot built with the NXT set.
Lego sets combining programmable bricks with electric motors, sensors, Legobricks, and Lego Technic pieces (such as gears, axles, and beams).
RobotCub Consortium:-
iCub robot, designed by the RobotCub Consortium
Self-reconfiguring modular robot:-
able to deliberately change their own shape by rearranging the connectivity of their parts, in order to adapt to new circumstances, perform new tasks, or recover from damage.
Puppy Vs. Robot!
Robotic hand that feels real
Robot mimic gives a speech
Female Robot
the Robot that can Ride Bicycles