Villu Paatu (or 'Bow Song' as translated in English, Villu means Bow) also known as Villadichampattu is an ancient form of musical story-telling art of South Kerala and Kanyakumari district and in Thovalai of Tamil Nadu. This art form is poular among Nadar and Ezhava caste of erstwhile Travancore Kingdom.
Bow, the age-old weapon of warriors - paradoxically lends itself to be used as a primary musical instrument for the Villu Pattu artists.

Iravikkutti Pillai
(1603-1635) was a great Commander-in-Chief of the
Venad
Kingdom of South Kerala in India
Iravikkutti Pillai belonged to the Valiya Veedu
Nair
family of Keralapuram in Kalkulam now in the Kanyakumari District of
Tamil Nadu
. His mother was Easvari Pillai. Kuzhikkottu Paduvilakathu Kochu Narayana Pillai was his Guru in warfare. He became a minister under the King Unni Kerala Varma of Venad. The capital of Venad was
Padmanbhapuram
.
PADMANABHA PURAM FORT SOUTH INDIA
During his time, Madurai Thirumala Naickan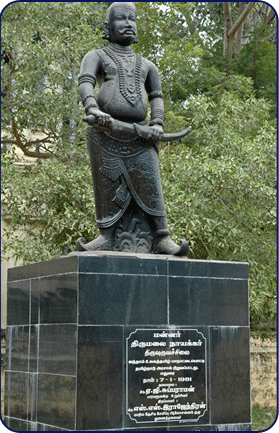 attacked Venad. Irvikkutti Pillai was asked to lead the venad army and the attack which was spearheaded by Velayyan was repulsed. As a reward Iravikkutti Pillai was appointed the Chief Minister and the Commander-in-Chief of Venad. But Thirumala Naickan sent another army under the leadership of Ramappayyan to attack Venad.
The
battle at Kaniyamkulam near Nagercoil
was decisive. Some army commanders betrayed the Venad army out of jealousy towards Iravikkutti Pillai Padathalavar and the Madurai army defeated the Venad army.
Iravikkutti Pillai was killed in the battle
. This incident became the theme for the folk song for the Villadichan Paattu, '''Kaniyakulathu Poru''' in the local Tamil dialect.
VENAD KINGDOM -SOUTH INDIA
detailed map of Padmanabhapuram and near places

Welcome to the Padmanabhapuram google satellite map! This place is situated in Kanniyakumari, Tamil Nadu, India, its geographical coordinates are 8° 14' 0" North, 77° 20' 0" East and its original name (with diacritics) is Padmanābhapuram. See Padmanabhapuram photos and images from satellite below, explore the aerial photographs of Padmanabhapuram in India. Padmanabhapuram hotels map is available on the target page linked above.
Imagery ©2012 TerraMetrics, Map data ©2012 Google -
This map is informational only. No representation is made or warranty given as to its content. User assumes all risk of use. Maplandia.com assumes no responsibility for any loss or delay resulting from such use.