Mohanlal dialogue modified as #PoMoneModi trends in social media
Mohanlal dialogue modified as #PoMoneModi trends in social media
Once again social media reacting strongly to political tricks and cheap political plays. Trolls are the latest weapon of social media to attack the follies and dirty tricks of politicians, specially. Many politicians were trolled in social media and references from movies were taken to create those trolls and it make the troll to get a wider reach as people always remembers popular film dialogues, situations in films and scenes.
In Kerala, dialogues from Mohanlal films, scenes from the films he acted were used more by troll pages to create their trolls as his films is more popular in Kerala than any others. Now, one of his most popular dialogue from the film titled Narasimham is modified to troll none other Narendra Modi and it is now trending in social media. #PoMoneModi is the latest twitter and Facebook trend here.
The original dialogue is "Nee Po Mone Dineshaa..", which is unarguably the most popular one liner ever in Mollywood, is uttered by Mohanlal in the film Narasimham written by Renjith and directed by Shaji Kailas. The dialogue is modified as "Po Mone Modi" to troll Narendra Modi who came to Kerala for election campaigning and during one of his speech here he compared Kerala to Somalia.
People here reacted quickly and they created this one liner from famous Mohanlal dialogue and made it a trending message in Twitter and Facebook to show their protest to Modi. The dialogue actually means "Hey Son, you are dismissed from here and you better go home".
Once again Kerala shows their spirit against these kind off political plays and sending strong message to them. Leading medias describing this trend by saying that there is always a Mohanlal dialogue for every situation you come across in your life and society if you area a Malayali.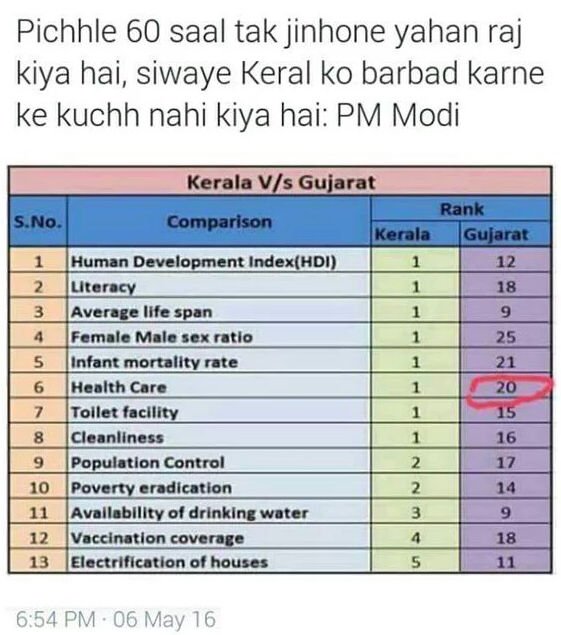 pov monay -meaning changes from occasion to people involved


pov monay:-
1

father to son means ;son you go
2

from person to liar; means i don't believe what you said


3

between equals means ;i dont care for you



4

between enemies mean; get lost/f..k o.f .

in case of modi it means --1 we dont believe what you said
2 we don't care for you or your party
3 get lost /go back